Kom duiken bij het enige 5-sterren PADI IDC-duikcentrum op Curaçao!
Deskundig personeel, focus op klantenservice, persoonlijke begeleiding, de leukste PADI-instructeurs, de schoonste lucht, en gratis ophaalservice is waarin we ons onderscheiden.
Elke dag organiseren we duiktrips en starten we PADI-cursussen, Open Water-cursussen, Advanced, Rescue Diver en nog veel meer cursussen.
Waar wacht je nog op? Dive in!
Bekijk onze cursussen
Cruise Deals Curacao
De Diveshop is uitstekend gelegen in het centrum van Curacao en bevindt zich op slechts 5 minuten rijden van de cruiseterminal. Dus wil je met familie of vrienden een halve dag een duik maken, dat kan. Zelfs voor niet-duikers hebben we leuke Cruise Deals beschikbaar.
Bekijk onze Cruise Deals
Ontdek Curacao!
Leer meer onver onze DIVESHOP, staff en zo veel meer Curaçao heeft aan te bieden. Super makkelijk om je beste vlucht te vinden richting Curaçao en kies uit verschillende locaties om te verblijven direct naast onze DIVESHOP.
Check out Curaçao
Wat anderen over ons zeggen:

Loved everything about our diving experience with The Diveshop Curaçao Excellent guidance for our teens taking their open water course. Professional, relaxed, safety first and above all fun. Highly recommended!... read more

Ad d


november 1, 2022

I dove with various instructors at the diveshop through my time in curaçao and did several courses, mainly with Thor and Pleunie, but I also had the chance to dive... read more with Jane and Kenzy and all I have to say is that they are all absolutely incredible people and fantastic instructors. Insanely knowledgeable, very kind, helpful and very patient and reassuring. If they weren't as awesome I probably wouldn't have done a single course with them and just done the dives with their Dive Society but I did my advanced open water, wreck diver and nitrox with them and wish I'd had the time to do more. My partner came to visit me and wanted to do his open water so he could dive with me and in the end loved diving with Thor so much he also did his advanced just so he could spend more time with his man-crush 😉 Truly the nicest bunch of fish in the world I hope I can come back soon to dive with them again!

juliapexplorer


oktober 26, 2022

It is my absolute honor to leave this five star review for the folks at The Dive Shop in Curacao. From the very moment that they met us at the... read more cruise ship, I knew that it was going to be a great day. Thor introduced himself right off the bat, then "Q", and last, but not least, Pleunie. They were bubbly, friendly, and professional. I would add knowledgeable later during our dives. They loaded us up in two vehicles and drove to their ocean side site. We gathered around a picnic table for a briefing and they offered us coffee and juice. They made sure that we had all the gear that we needed, including loaner dive computers. And off we went to Kokomo Beach. Nice, easy, beach entry. They got everyone settled down, buoyancy checks complete, and off we went. Absolutely beautiful dive with many various species spotted, and pointed out to us. One guide in the front, one in the middle, and one bringing up the rear, along with a professional photographer who shadowed us. That'll be another rave review, but separate from this one. A short walk back to the trucks, dropped the gear, then paused for a break and a drink at the waterfront bar/restaurant, where we saw Layla's pictures.

Then off to Snake Bay. Another nice, easy, beach entry. And another breathtaking dive through coral reefs with many more colorful species to see. A short ride back to their base, dropped the gear, signed log books, took pictures, and big hugs all around. They loaded us up in their vehicles and dropped us off back at the ship. More hugs, and farewells. What an amazing day. We will be talking about this one for years to come, in the very best way.

I can not say enough positive things about this shop and it's guides. If you are looking for a place to get certified in diving, this is the place to go!! I can only imagine how patient and enthusiastic they are with new people as they were with us. Two thumbs up and five stars! Thank you so much for a lifetime memory!! We will definitely be back!

Mark S


oktober 17, 2022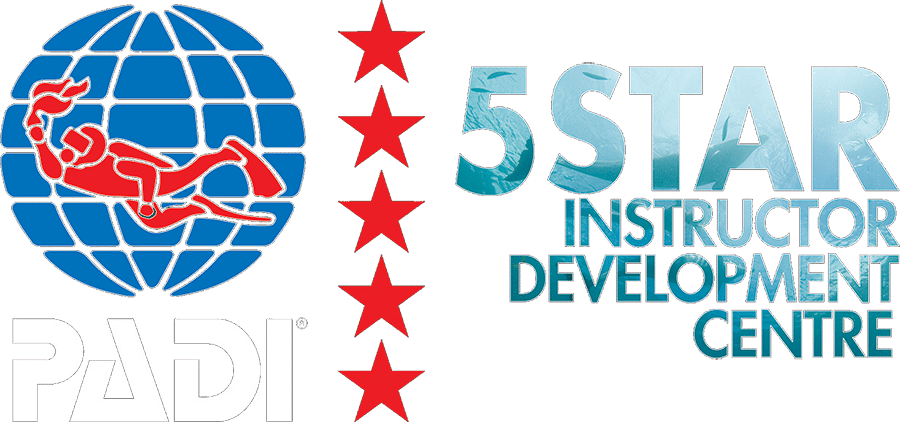 Officieel PADI 5-Sterren Instructor Development Dive Center
Wij zijn een officieel PADI 5-Sterren duikcentrum. PADI 5-Sterren duikcentra zijn vooruitstrevende duikcentra die een volledig aanbod aan PADI-duik-educatieprogramma's, materiaalkeuze en ervaringsmogelijkheden bieden, en daarnaast het verantwoord omgaan met de natuur aanmoedigen.
Lees meer over PADI 5-Sterren Duikcentra